Hello All,       Are you frozen? Beating your way through the tundra of abandoned mid-size sedans to get sundries and victuals at your local McMegaMart? 
Are you part of this polar vortex? Or are you one of those smug Californians (ME) Who raises his glass of pulverized kale juice to the many crisped to solid ice on our nation's rougher coast? Can you smell my smug sense of sun-drenched entitlement? Do you hate me? Well don't, when an apocalyptic earthquake cuts off my water supply you can laugh over your plate of authentic Sicilian (Fill in name of that thing you always get).  That's enough talk about the weather, I am not 80. 

We're coming up to awards season. This is my Football season. I could care less about what happens in the realms of professional sports. I've tried. I watch the Super Bowl for commercials and Halftime. I become visibly upset if I have to sit through a live game. I'd rather watch paint dry. But I do love movies. I love them more than food. And I was a fat kid. So this is my Super Bowl, my March Madness, my World Series. I root for my teams, I have favorites, I compose fantasy teams. The whole kit. Last night was the golden globes. As I type this Sunday Afternoon, I'm ACTUALLY EXCITED!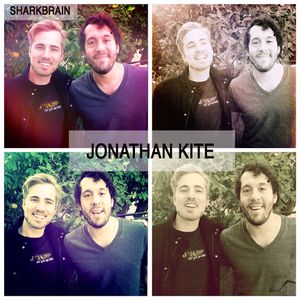 Now I know that these shows are symbolic vague forms of self-congratulation veiled in pomp and circumstance meant to instill a sense of reverence for an industry rife with corruption seeking money at the cost of human decency, BUT IT'S FUUUUUUUN!

I'll climb up on my high horse named after Marshall McCluhan after I find out who won best picture. 

This week on the podcast we have actor/comedian Jonathan Kite, a master impressionist best known for his role on the sitcom "Two Broke Girls". We talk about growing up outside of Chicago, working within sketch comedy, and remaining a student of life. Great Talk.